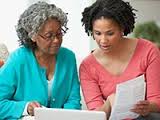 Do you remember having the "talk"?  It could have been the first day of school, your first car, that first date, leaving for college, getting engaged, divorced or returning to your parents' home.
Two of the most dreaded "talks" that come to mind for our gracefully aging population are realizing our parents are no longer able to adequately care for themselves or that we are no longer able to care for ourselves physically or financially.
Recent conversations with friends, family, clients and colleagues reveal this message in some form or fashion; the uncertain future for many #baby boomers. Do we sell our homes?  Is it more beneficial to downsize?  Should we move to be closer to family members or friends?  How about inviting family members or trusted friends to live with us?
The talk allows us to tell our story lovingly, kindly and honestly.  This discussion has  little resemblance to that talk of our adolescent years when our friends were the experts. We have done the research.  We are facing the realities of life.  This conversation is about truth.  Are we able to care for ourselves or care for our loved ones in the manner that is deserved? The talk matters and deserves our diligent attention and preparation.  Are health challenges — mental or physical a part of the equation?
Remember, we are all human and need each other.  It is not about mere survival, but thriving through the ages. Be sure to examine your own feelings and those of your parents as we make these major lifestyle changes and decisions.   Everyone's opinion matters and deserves to be heard.  Listening, acceptance, inclusion are crucial as we make this journey.
This conversation may be the most important talk we have ever have.  Make it worth your time and that of your love ones.  It's a part of our New Beginning.
Let me know how it goes.
Joy and light,
Angela