During a recent shopping trip, I passed a lady shopping for the perfect greeting card for a friend.  She was thinking out loud.  Realizing I was near and probably heard her #self talk, she apologized for talking to herself.  We both smiled and I commented, she was most likely the best person to talk to.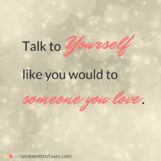 Most of us have monologues with ourselves.  What did I do with my keys?  What time am I supposed to be there?  When was the last time I wore this? These one-sided conversations have become rather normal.
Sometimes we are less than positive with our banter. "I always miss the turn;  I should not wear this;  I can't believe this traffic;How could I forget ….
Let's continue with our self talk.  Let's do it more often.  Let's make it positive.  I am grateful.  It is all working out favorably.  I can laugh at this.  I can do this.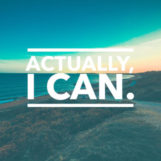 When our self talk is positive,  we feel better about what we are going to and what we are going through. Next time someone unexpectedly catches you right in the middle of your self talk, continue your conversation with the greatest listener you know and greet that person knowing that they also understand the creation of a great conversation with self.
Go out and have yourself a wonderful day knowing that you are loved, brilliant and a great self motivator.