Spending time with loved ones matters.  I recently spent a few days with my aunt who is almost 82  and uncle who will be 90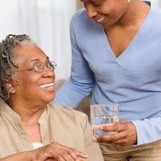 in the summer.  So many memories were shared.  There was the feeling of love and compassion.  Excitement filled the air. We were all up later than we should have been and earlier than I think they usually rise.
We sat and talked about summer visits during my childhood.  We looked over the many photo albums she has stored with pictures of relatives known and unknown.  There were tears of joy and sadness.  My only male cousin — her son, who was murdered 10 years ago still brings up sadness for her.  There were photos from amusement parks, birthday celebrations, births, reunions, weddings and so much more. He was in many of those photos with a handsome smile.
They are both very active.  We went to her weekly line dancing class.  Others were following her lead and stopping between the dances for water breaks.  She stayed on the floor for the entire class and was not winded.  We had taken a two mile walk earlier in the day before the class.
This week they will be attending and participating the closing ceremony for the senior games.  They have at least 10 awards between the two of them.  Their choir will be singing for this event. They living their lives the golden way.
I can not imagine how much this visit meant to all of us.  Before it was time for me to leave, they told me how much they enjoyed my visit and how happy they were that I had taken the time to come to visit with them.
Indeed I feel I am really the beneficiary from this visit.  If you have family members you haven't seen recently and you are able to visit them, take the time to visit.  If you are not able to visit, give them a call. At least send a card.
Personal touch means so much. We all need it.